SNEED-PACK Rotary Accumulation Tables
SNEED-PACK Rotary Accumulation Tables
We launched the SNEED-PACK product line to compliment our comprehensive line of SNEED-JET inkjet coding printers. Many customers are frequently in search of conveyors or material handling solutions to accompany the printer they purchase. 
SNEED-PACK Rotary Tables
SNEED-PACK Rotary Tables can be used to unscramble product and feed a conveyor, also as a buffer space to accumulate product until the downstream conveyor is ready for additional product or collect. Accumulating rotary tables are designed to collect filled containers from a filling line to prevent slowdowns by quickly removing the finished product from the conveyors during operation. Can be set for clockwise and counterclockwise rotation.
The SNEED-PACK Rotary Tables are available with different diameter sizes and attachments available depending on your requirements. 
Available Diameter Sizes:
24 Inches
36 Inches
48 Inches
60 Inches
Available Attachments: 

Infeed Table

- for easy input of product at the beginning of the conveyor. Alternately, it can be used at the end of the conveyor as a work table for an operator that is pulling and packing finished products. 

Infeed Table & Unscrambler

- ideal for beginning of the line to feed and unscramble product to input onto the conveyor. Recommended accessory: Transfer Plate & Gate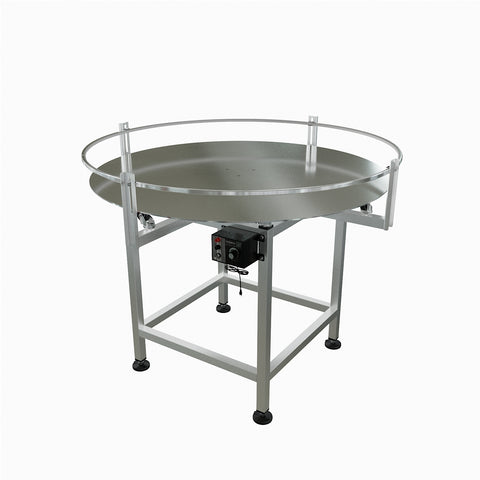 SNEED-PACK Rotary Accumulation Table