Rotary Accumulation Tables
What is a Rotary Accumulation Table Used for?
Enhance the efficiency of your filling line with rotary accumulation tables. These purpose-built tables swiftly collect filled containers, preventing slowdowns by swiftly clearing the conveyors. Acting as a buffer, they create space to accumulate products until the downstream conveyor is ready for more. Say goodbye to manual product handling and let the accumulation table streamline your operations. Experience increased productivity and reduced downtime today.
Which Rotary Accumulation Table is Right for Me?
When it comes to packaging challenges, just like coding solutions, there's no one-size-fits-all approach. That's why selecting the right rotary accumulation table is crucial. We offer three models to choose from:
Rotary Accumulation Table
Rotary Accumulation Table with Infeed Table
Rotary Accumulation Table with Infeed Table & Unscrambler
Each model is available in four different diameter sizes: 24 inches, 36 inches, 48 inches, and 60 inches. The selection depends on your specific product volume requirements. Don't pass up on the opportunity to simplify your packaging process.
The two attachments that are compatible with our SNEED-PACK rotary accumulation table are our infeed table and unscrambler.
Infeed Table
An infeed table serves multiple purposes, providing convenient product input at the start of the conveyor. Additionally, it can be utilized as a work table for operators involved in manually pulling and packing finished products.
Infeed Table & Unscrambler
Save time and effort by incorporating an infeed table and unscrambler into your production line. These components are specifically designed to handle the orientation of your products, eliminating the need for manual adjustments. Perfect for the beginning of the line, they efficiently feed and unscramble products as they seamlessly transition onto the conveyor.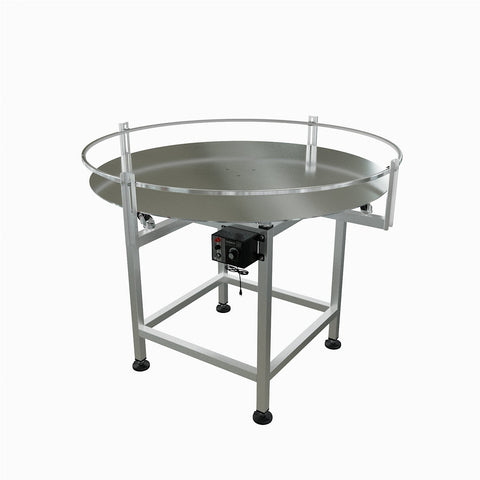 Rotary Accumulation Table